When we think of upcycling, we often think of this DYI, messy, not very elaborated trend. However, upcycling is being used more and more as it is a greener production method. In recent years, it has been flourishing everywhere among emerging as well as more established fashion designers.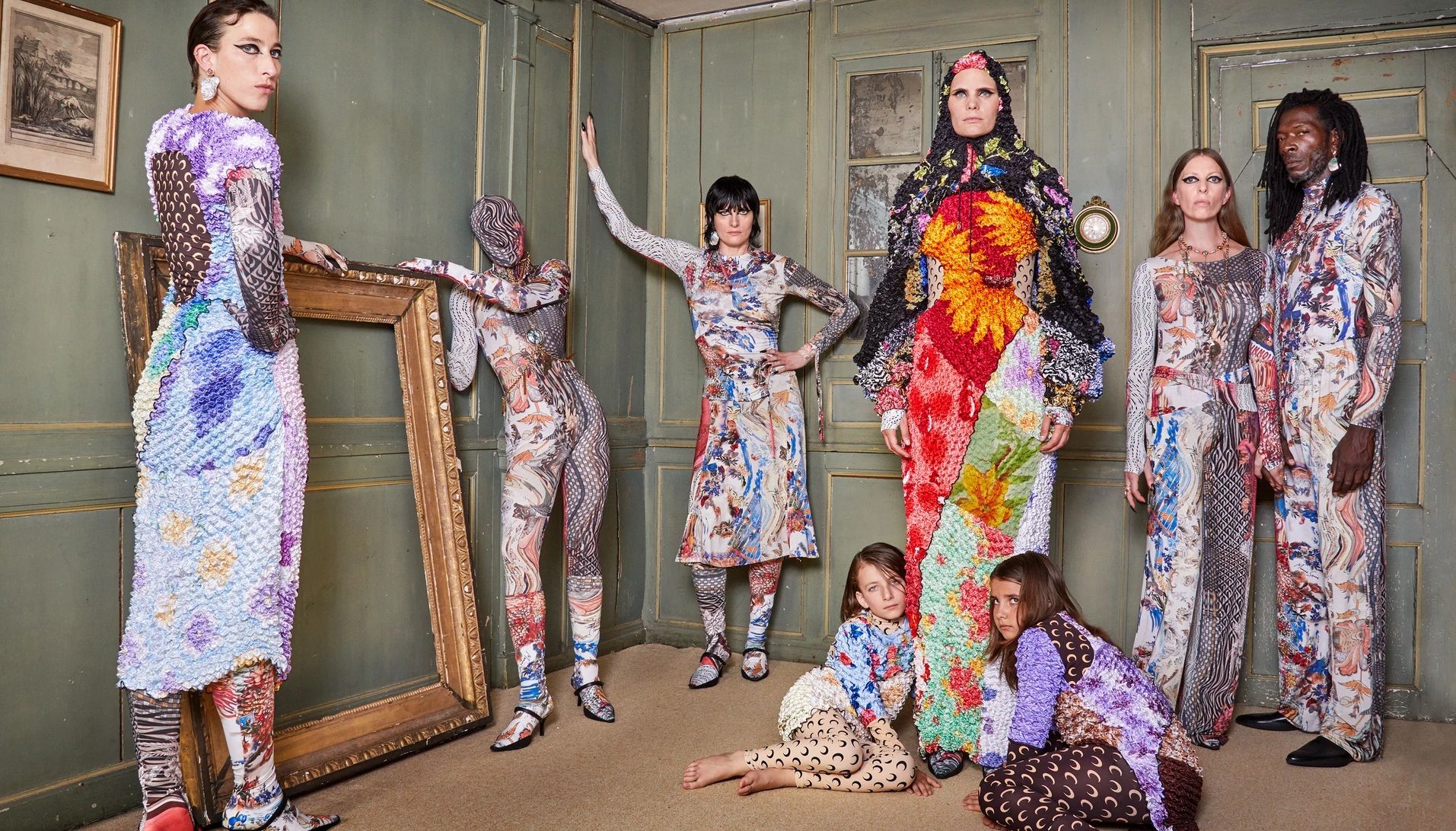 Today, the expressions of upcycling are multiple. In a world where fashion has never gone so fast, a contextualization is essential to better understand the new dynamics of creation.
Upcycling is part of the so-called "circolar" fashion movement, i.e. a fashion that is more conscious and concerned about its environmental and social impact. For a few years now, brands have been facing a growing demand for products with a minimal or neutral impact from the newest generations: the Millenials and the GenZ. These generations, who have grown up with the pressing issues of global warming, now constitute the majority of luxury consumers: between 2021 and 2022, 63% of GenZ and 63% of Millenials have purchased one or several luxury items, compared to 45% for Gen X and 25% for Baby Boomers (Klarna, 2022). In their ways of consuming, it is important to note that the ecological awareness of these individuals plays an important role: according to a study conducted by McKinsey in October 2021, 58% of sustainable fashion consumers would be under 35 years old.
According to McKinsey, 58% of sustainable fashion consumers are under 35 years old.
Brands and major groups are therefore faced with a demand that forces them to rethink the way they design their products and propose their vision. This is the case for LVMH - the world's leading luxury company - and its LIFE360 program. In 2012, LVMH created the LIFE program to put sustainable development at the heart of the strategies of all its houses. In 2020, LIFE became LIFE360 and was consolidated in the face of the climate emergency: it became structured around main pillars such as the protection of biodiversity, the integration of eco-design, strong traceability and the effective reduction of carbon emissions. Certain key measures also emerged: new circularity services (upcycling, repair), certification of materials, new renewable energy sources, etc. In addition to that, LVMH created Nona Source in 2021, as a B2B platform entirely dedicated to the reuse of fabrics and materials from the major luxury houses.
But LVMH is not the only group to make a significant effort for the environment: Kering, Richemont, Puig, the Moncler Group are all actors of change on a larger scale, with strategies similar to LVMH's.
Brands also have a strong part to play in the responsible changeover of the fashion industry. However, the measures adopted by many of them can sometimes seem a little limiting, due to the difficulty of applying more radical methods in the short term. Indeed, many of them stick to eco-design and the use of innovative fibers (such as Piñatex or Orange Fiber) or the recycling of synthetic fibers such as polyester, nylon etc.
The 4Rs are the four pillars on which the circular fashion industry is based : resale, rent, repair and rework.
Although these techniques account for a real effort with a measurable impact, there are other solutions that are even less polluting and yet less exploited. That's when we get into the reality of a circular economy, based on 4 main pillars called "4Rs": resale, rental, repair and rework. While resale and rental are more about business, repair and upcycling remain creative techniques with a near-neutral carbon impact, making them very interesting options in terms of sustainable development. In the last few years, many brands have become interested in these solutions, even to the point of integrating them as core elements of their business. We can mention several of them.
Vivienne Westwood, or the "empress of punk", was a true vanguard of upcycling long before it was defined as a true business model. In the 1980s, she found inspiration in the retro charm of the 1950s, and reworked pieces with the punk Do It Yourself mantra which has defined a lot of her early work. After tearing apart ready-to-wear garments, altering individual pieces through various techniques, and then sewing everything back together, Vivienne Westwood created unique pieces that helped define her style. Not bad for someone who didn't think she had a future in a design job.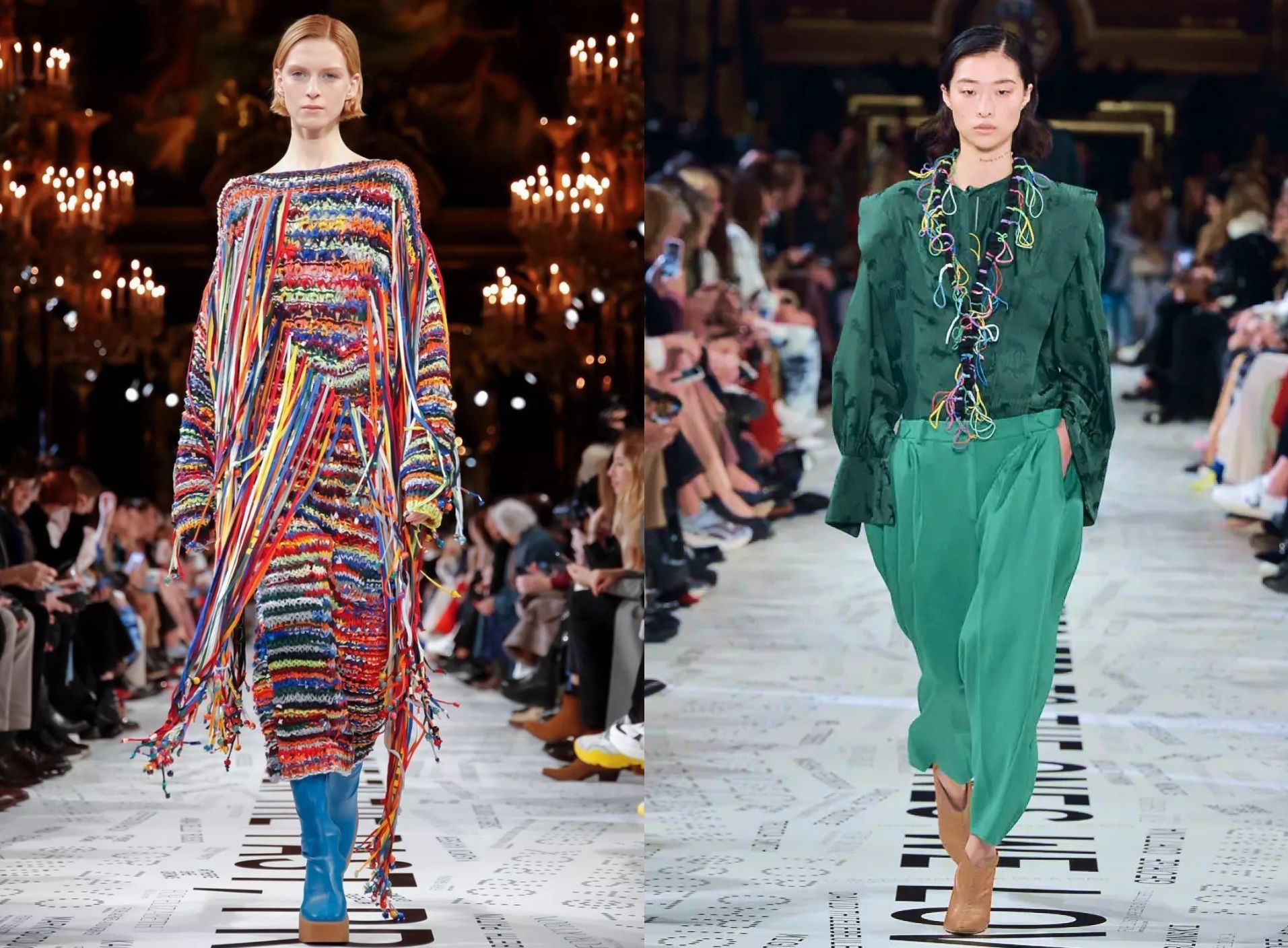 Of course, we can also talk about Stella McCartney, the contemporary pioneer of sustainability in fashion. Since the brand's beginnings in 2001, it has been built around an ongoing fight for ecology, from being committed to the animal cause to using innovative responsible materials. Recently, Stella McCartney put upcycling in the spotlight with its FW 2019-2020 fashion show, during which some models walked the runway with pieces made entirely from fabric scraps and unsold t-shirts. In addition, Stella McCartney has fully incorporated upcycling into its Manifesto published in 2020, to "demonstrate our commitment as a house to repurpose, transform and upcycle already existing fabrics, whether they are our old textiles or fabric scraps from other sources," according to an interview with the designer for Vogue (2021).
When it comes to upcycling, it's hard not to mention Marine Serre, who embodies a whole generation of young, committed designers. Since the brand's foundation in 2016, her radical desire for more conscious fashion has come together in a strong narrative, with recycled and upcycled materials being central to the production's requirements. We've seen this in a lot of her work: "Fichu for Fichu" (Spring/Summer 2022), which featured garments made of transformed tablecloths and sheets, or the Regenerated Denim line. Today, 50% of the collections presented are composed of upcycled or recycled materials.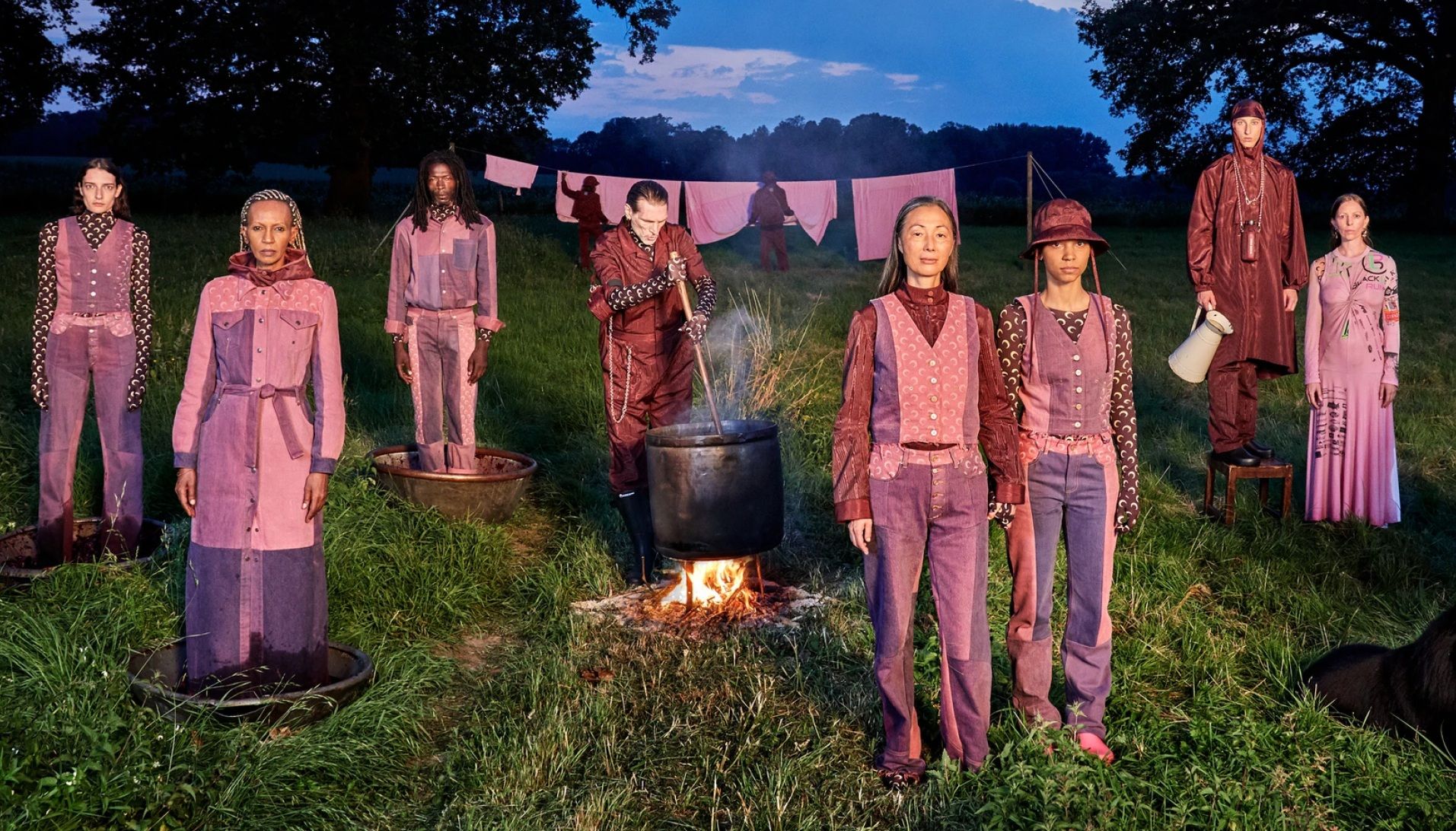 Finally, we can note Margiela's activist-like upcycling methods: in 1989, the Belgian designer created a line of clothing made entirely from Franprix plastic bags and recycled materials, as a way to criticize the consumerist society and initiate the discussion around the aesthetic potential of everyday objects. In 2020, John Galliano paid homage to this approach by creating the Recicla Line, composed of second-hand clothes found in London charity shops, then transformed as much as possible to give them a new life. Upcycling as a way to instill a new identity in objects from the past is something that has been an integral part of Maison Margiela since the beginning.
While upcycling and luxury have proven not to be incompatible for years, this trend has been slower to reach the prestigious catwalks of haute couture.
"We don't always have to make a new trench coat every season (…) if you present clothes in a different context, they become new again", Ronald Van Der Kemp
Dutch haute couture designer Ronald Van Der Kemp is considered one of the first to incorporate upcycling into his designs: when he created his eponymous brand in 2014, he became a sustainable designer by putting forward the idea of reinventing couture so that it would be more future-oriented. For him, it's about recontextualizing sustainability: "I want to show that we don't always have to make a new trench coat every season and change the button here and there (…) if you present clothes in a different context, they become new again," he said.
In 2016, it was two other Dutch designers who caused a stir by waving the upcycling banner in an haute-couture show. With their "Vagabonds" collection (AW16-17), Viktor & Rolf paid a glorious tribute to the past by using pieces from their previous collections to communicate a new, forward-looking vision. After this milestone, the Dutch house's haute-couture collections incorporated upcycling as an integral feature of their creative process. Today, the house emphasizes the notion of conscious design, with a simple mantra: to do more with less.
"Flamboyantly old", in French "le flambant vieux", is a work of conscience on the management of textile waste in luxury fashion.
Finally, we can mention Jean Paul Gaultier's tribute to upcycling during his last haute-couture show in January 2020. In an interview, he said: "I opened all the drawers, I recovered all my old collections, everything I found while traveling or at the flea market to make confetti and reuse them … a whole work of craftsmanship and sewing". What the designer describes as "flamboyantly old" ("le flambant vieux" in French) is in fact an increasingly accomplished work of conscience on the management of textile waste in high fashion.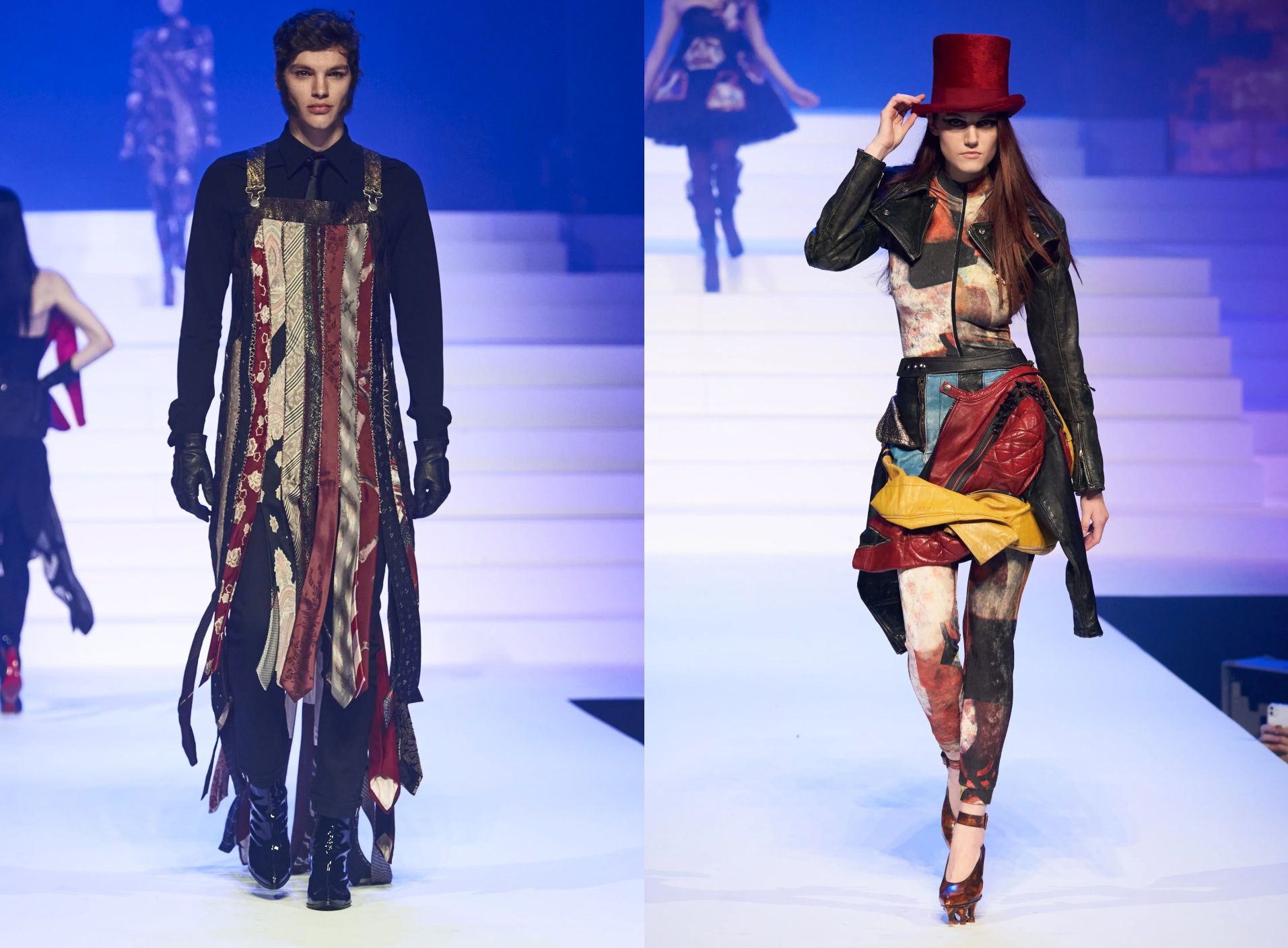 While it is still in its early stages of success, upcycling is becoming an increasingly used creative method across all spheres of design. In the face of climate emergency, this waste management technique is worth all of our attention as it is becoming increasingly important, as much for its neutral impact as for its infinite creative potential.